The maps in this section represent the geographical locations of members of some agriculture and tourism organisations in Tanzania.
The map below represents the location of members of 3 tourism associations: Tanzania Association of Tour Operators (TATO), Hotel Association of Tanzania (HAT), and Tanzanian Association of Cultural Tourism (TACTO). This spread shows that most members are operating in zones along the coast, the northern circuit and the Southern Highlands.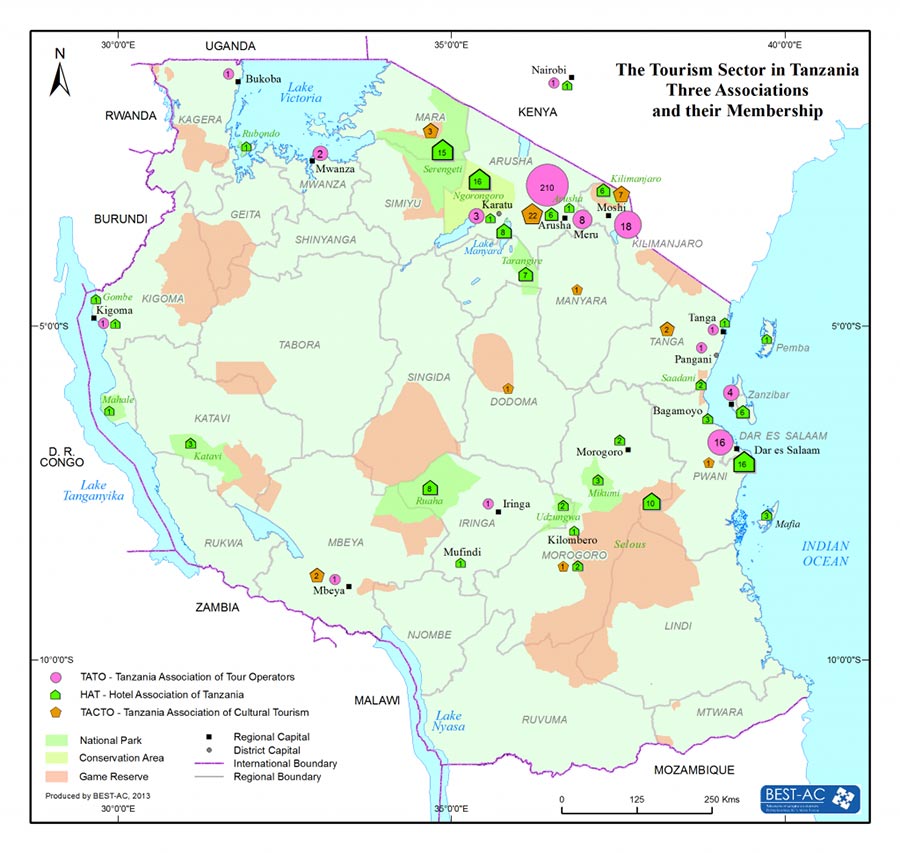 The following map represents the locations of members of agricultural associations supported by BEST-AC. These organisations are: the Agricultural Council of Tanzania (ACT), the Agricultural Non-State Actors Forum (ANSAF), Tanzania Graduate Farmers Association (TFGA), Sokoine University Graduate Entrepreneurs Cooperative (SUGECO), and Tanzania Chamber of Commerce, Industry, and Agriculture (TCCIA) offices. The spread shows that this sector is most represented around the Southern Agricultural Growth Corridor of Tanzania (SAGCOT).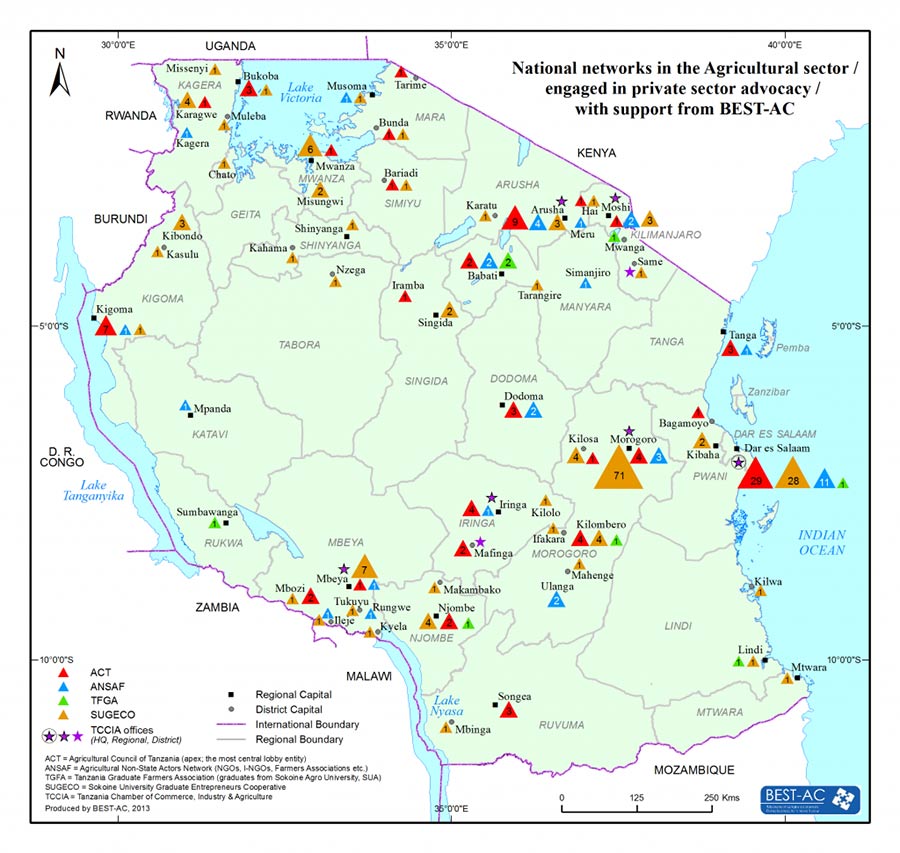 This map below shows business associations supported by BEST-AC in 4 value chains: edible oils, sugar cane, tea, and cashews. The associations represented are:
Tanzania Edible Oil Sector Association (TEOSA), representing 80,000 associated producers and processors. Sunflower is an important sub-sector, contributing 40% of all edible oil consumed in the country. The regions of Dodoma, Singida and Manyara, in the Central Corridor, produce 61% of the nation's sunflower oil production.

Smallholder Tea Growers Association (STGA), representing more than 30,000 associated farmers. STGA represents 16 active member associations in the 5 tea growing regions: Tanga, Mbeya, Iringa, Mara and Kagera.
Tanzania Sugarcane Growers Association (TASGA), representing 15,000 associated farmers. The TASGA umbrella assembles 3 large sugarcane out-growers associations in Mvomero, Kilombero and Morogoro.

Agricultural Non State Actors Forum (ANSAF), representing the emerging cashew sector umbrella organisation. In 14 districts in the regions of Pwani, Mtwara, Lindi and Ruvuma, cashew production accounts for 80-90% of Tanzania's marketed cashew nut crop.